---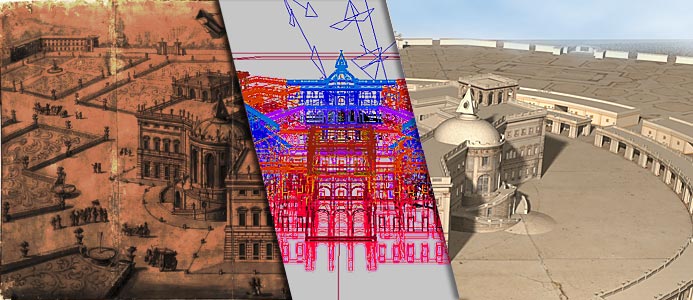 Here's What You Need to Use Our Virtual Reality Model
| | | |
| --- | --- | --- |
| | | Minimal Requirements |
| | OS | Windows 2000/XP |
| | CPU | 3 GHz or higher processor clock speed |
| | RAM | 512 megabytes (MB) of RAM |
| | GRAPHICS | DirectX9 hardware acceleration |
| | HDD | 1.0 gigabytes (GB) of available hard disk space |
Installing the Virtual Reality Engine UnrealEngine2
To use our model you have to follow these steps:
Download the Virtual Reality UnrealEngine2 from the following external online source

http://www.udn.epicgames.com/Two/UnrealEngine2Runtime22262002


Once your download completes, if the dialog provides you with the option to Open or Launch File, click that option. If not, click on Start, Run..., Browse... and navigate to where you saved the installation file. Double-click on the file, then click OK.
Click on Setup to begin the installation.
Once the installation files have uncompressed, you'll be presented with the UnrealEngine2 Runtime installation dialog. Click on Next to view the software licensing agreement. You must agree to the terms to use the Runtime. If you agree, click on I Agree to proceed.
On the next screen, you can enter an alternative location to install the Runtime; the default is recommended. Click on Next to continue.
If you are installing more than one copy of the stock Runtime software, you should read the notes for the two Runtime association checkboxes. You may want to change one or both of the options.
Finally, click Next, then Install.
When the installation finishes, you can Launch the UnrealEngine2 Runtime, read the Release Notes or visit the unrealEngine2 website.
| | | |
| --- | --- | --- |
| | Folder/Filename | Folder |
| | Maps/BH_Juvarra1.01.urt | Maps |
| | Sounds/BH_Juvarra.uax | Sounds |
| | StaticMesehes/BH_models-S.usx | StaticMeshes |
| | Textures/BH_models-S.utx | Textures |
Launch the model
You can launch the UnrealEngine2 (UnrealEd) by selecting Start, Programs, UnrealEngine2 Runtime and clicking on UnrealEngine2 Runtime.
Select "BH_Juvarra1.01" and click on Start.
If you get the error "connection failed", please exit the UnrealEngine2 by clicking esc and then select Exit Runtime.
Then launch the UnrealEngine2 Editor by selecting Start, Programs, UnrealEngine2 Runtime and clicking on UnrealEngine2 Editor.
Select file, open and then choose "BH_Juvarra11.01.urt" .
The programme will show you load errors. Please click OK.
Then click on the icon

to launch the model

Explore the model
To interact with the environment, you have to use your keyboard and your mouse.
| | | |
| --- | --- | --- |
| | Action | Keyboard |
| | move forward | arrow up |
| | move backward | arrow down |
| | move to the left | arrow left |
| | move to the right | arrow right |
| | look around | move your mouse |
| | switch between "Fly" and "Walk" mode | f |
| | General Options | Press Esc |
| | brighter or darker view | F10 |
Have Fun!
---
All trademarks and registered trademarks appearing on biblhertz.it are the property of their respective owners.