_____________________________________________________________________________

Vogelschauperspektiven, skizzierte Blickachsen und Vedutenfolgen. Architekturzeichnung als Mittel multiperspektivischer Raumkonzeption

Birds eye's views, visual axes and vedutas. Architectural drawings as media for multiperspectival conception of spaces


Elisabeth Kieven, Bibliotheca Hertziana, E-Mail: kieven@biblhertz.it
Hermann Schlimme, Bibliotheca Hertziana, E-Mail: schlimme@biblhertz.it

_____________________________________________________________________________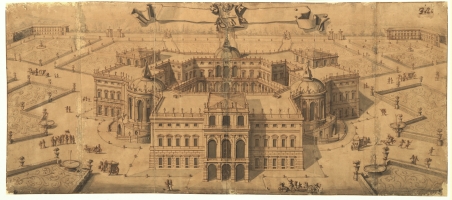 Filippo Juvarra, Variante zum Concorso Clementino 1705,
"Palazzo in villa per tre personaggi", Berlin, Kunstbibliothek, Hdz. 1151

Kurzbeschreibung der Fallstudie
the casestudy: an english abstract

Ergebnisse // Results

Die Fallstudie ist Teil des Projektes "Wissensgeschichte der Architektur" und ist gleichzeitig der Beitrag der Bibliotheca Hertziana zum Projekt 3D-Bridge. Transferring of Cultural Heritage with New Technology, das von der EU im Rahmen des Programms Culture 2000 gefördert wurde (September 2005 - August 2006).

The case study is part of the project "Epistemic History of Architecture" and simultaneously the contribution of the Bibliotheca Hertziana to the project 3D-Bridge. Transferring of Cultural Heritage with New Technology, which was financed by the EU within the framework of the programme Culture 2000 (September 2005 - August 2006).


_____________________________________________________________________________


Kurzbeschreibung der Fallstudie.

Die Fallstudie untersucht die Rolle der Architekturzeichnung im architektonischen Planungsprozess des späten 17. und 18. Jahrhunderts. Der Einsatz von Zeichnungsverräumlichungen (CAD-Modellen) und interaktiven Animationen ist unabdingbare Voraussetzung, um die den Zeichnungen und Skizzen innewohnende Raumkonzeption nachzuvollziehen und kritisch zu visualisieren. Vogelschauperspektiven, die Kontrolle von Sichtachsen mit Hilfe von Skizzen oder die Überprüfung der Wahrnehmung einer Schlossanlage aus der fahrenden Kutsche heraus stehen in ihrer Gesamtheit - etwa bei Filippo Juvarra - für ein multiperspektivisches Planungsverfahren, das die Zentralperspektive der Renaissance ablöste und der neuen Raumwahrnehmung in der Naturphilosophie nahekam.





Abstract

The case study examines the role of architectural drawing in the architectural planning process of the late seventeenth and eighteenth century. The use of three-dimensional drawings (CAD models) and interactive animations is now an essential prerequisite to understand and critically visualize the spatial conception inherent in the drawings and sketches of the period. Bird's eye perspectives, the control of visual axes with the help of sketches, or the checking of how the layout of a villa or country house is perceived from a moving object, such as a travelling coach, are just some examples of how – as in Filippo Juvarra – a multi-perspectival planning process dissolved the central perspective of the Renaissance and came close to the new perception of space in natural philosophy.